CENTURY P2 SPARRING GEAR
| | |
| --- | --- |
| Century Full-Face Headgear | Macho Warrior Student Sparring Gear Set |
| Student Sparring Gear Set | Pro Force Velocity Sparring Gear Set |
| Pro Force Thunder Student Sparring Gear Set | Century P2 Sparring Gear Combo |
| Century Student Sparring Combo | Pro Force Lightning Sparring Gear Set |
P2 Sparring Gear is a great addition to any MMA enthusiast's gear. The quality is excellent, the durability cannot be beat and it looks sleek and stylish as well. Century is a brand you can depend on to bring quality products to the table without the high pricetag.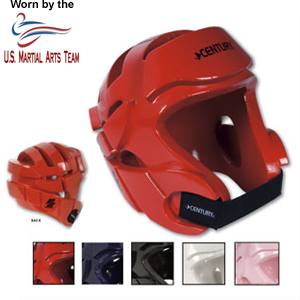 First on the list is the P2 Sparring Gear Headgear. The open-face construction offers protection without interference, maximizing peripheral vision and doubling up on impact areas. There are special pressure-released channels that integrate into the ear area to protect even further. It is made with 7/8" dipped foam making it lightweight and comfortable. An adjustable chin strap fastens conveniently with hook and loop closure. The aerodynamic technology is not only effective, it looks great too. Available in Child, Youth, Adult Small, Medium/Large and Extra Large, the headgear comes in red, blue, black, white and pink.
The P2 Full Face Headgear offers the same features as the P2 Headgear but added in is a removable mask that covers the eyes and nose. The mask is 4.5 mm thick and has increasesd jaw coverage along with ventilation channels and is constructed with double layers so it provides maximum shock absorption. The shatterproof polycarbonate mask is removable. You can purchase this headgear in sizes: Youth, Adult Small, Medium/Large and Extra Large and it is available in white, re, blue or black.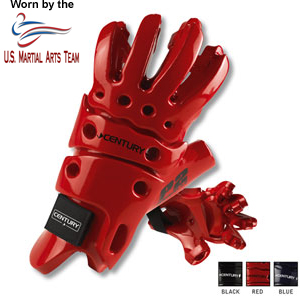 Next up is the P2 Articulated Finger Glove. The word "articulate" means to form the kind of connection that allows movement. That is exactly what this glove does. It has individual finger loops and full finger coverage, evenstill it easily allows for making a good fist and allows for packing a good punch. Perfect for the active artist. The padding goes up the arm for extra protection and split padding on the wrist allows for unconstrained motion. This fine glove is available in Child, Youth, Adult Small, Medium, Large and Extra Large sizes and can be purchased in red, black or blue.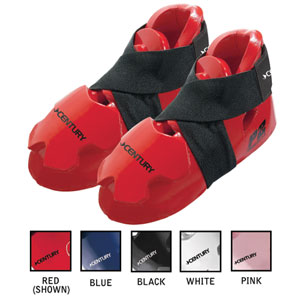 Your not going to get very far in boots that scoot. If you have opted to wear boots, you are going to want traction. These P2 Sparring Gear Boots are high tops that provide exactly that with their reinforced bottom straps. They are comfortable as well since they have a contoured design that lets air flow and keeps the feet cool and comfortable. Ankle straps have a hook and loop closure so they are easy to take on and off because you certainly don't want to be messing with your shoes when you are focusing on your performance. And talk about looking great, they are classy for sure. These boots are available in blue, red, black, white or pink and come in sizes Child 12/13; Adult 1/2, 3/4, 5/6, 7/8, 9/10, 11/12, 13/14, 15/16. Please note that 13/14, 15/16 not available in pink.
The chest is a very important area to protect for it holds important organs such as the lungs and heart and bones such as the ribs. For this reason, many wise Mixed Martial Artists choose to train with chest protectors on. This P2 Chest Guard is nonrestrictive and lightweight. Made of 1/2" dipped foam, it offers ventilation and great protection with reinforced coverage. A harness-strap design keeps it from moving which is vital for a good spar. Sizes include Child, Youth and Adult and color choices are blue, red, black or white.
The P2 Sparing Gear Gloves are a perfect fit, designed to contoure around your hand. The special engineered workmanship has 1/2" dipped foam so it provides plenty of ventilation to keep your hands from getting all sweaty and also has reinforcements at the stress points to give you extra protectioon. Double layer knuckle padding is another great feature. An adjustable wrist strap with hook and loop closure makes it convenient to slip them on and off. These are available in sizes Child, Youth, Adult Small, Medium/Large, Extra Large and Extra Extra Large. Blue, red, black, white and pink are the color choices.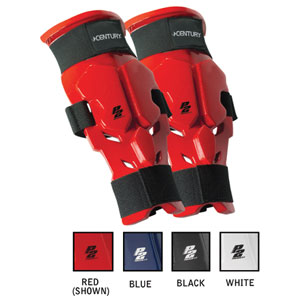 Last but certainly not least, is the P2 Sparring Gear Shin Guard. If you have ever been kicked in the shin or suffered a shin injury, you know how important this protector is. Constructed of 1/2" dipped foam, the P2 Shin Guard has multiple flex chambers for maxiumum flexibility. It also has two straps with hook and loop closure to easily secure them in place. They can be purchased in sizes Child, Youth, Medium/Large and Extra Large and come in blue, red, black or white. Be sure to visit our store for the best prices on these Century P2 sparring gear items.