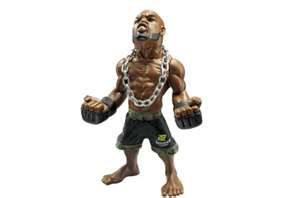 Collecting MMA Action Figurines has become a favorite hobby for lots of MMA enthusiasts
. Not only are the MMA action figures less costly to collect than some of the other MMA memorabilia, these figurines are just plain awesome! It's no wonder collecting MMA action figures is quickly becoming an addictive pastime that is rocking the MMA world.
"What started out as a hobby has become an obsession," admited collector Bobby Urnstein. "I simply cannot get enough of them."
Urnstein is not alone. Collecting MMA Action Figures is rapidly growing as popular as MMA cards. Young and old alike are joining in the fun. Of course the children are fascinated with the toys, but adults make up a good portion of the market too. The memorabilia industry is booming. In 2008 alone, the action figure industry as a whole took in an estimated $1.5 to $1.8 billion in sales. A good 30-35 percent of those sales were chalked up to adults and that's not counting the adults who posed as kids for the purchase.
But there's no need to be ashamed of the fetish anymore
for MMA Action Figures collectors are in good company. It is serious fun for a growing number of people including both the novice and seasoned enthusiast. "I'm like a kid in a candy store when a new action figure is coming out,"Urnstein said. But he went on to confess, "But stand between me and my new toy and you're going to get hurt because when push comes to shove, I am gonna get mine."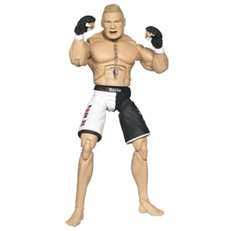 Getting in on the action is the
Official UFC Store
with a huge variety of the novelties that are offered at fantastic prices as well. Of course the UFC Store is partial to UFC MMA Action Figures as you might guess and they do have a selection including the Titans Series. The
Titans Series 1
figures are 1" shorter than the the Ultimate Collector Series, but share the same points of articulation at the neck, waist arms and fists. The figurines have the same realistic faces of the fighter but with an anamated twist like oversized heads. Georges St-Pierre, Chuck Lidell,
Royce Gracie
, BJ Penn, Randy Couture and Thiago Alves are some of the great UFC fighters featured in the Titans Series collection. The
UFC Store
also carries the UFC Deluxe Action Figures like the Forrest Griffin which is made with a 26-point articulation that way fans can recreate real MMA moves. From the only official line of deluxe articulated figures for the UFC, the collectible features fight wear from UFC 76. This UFC action figure is a honorable tribute to one of the legends of the UFC.

Along with
Forrest Griffin
, other UFC Deluxe Action Figures are of Nate Diaz, Wanderlei Silva and Quinton "Rampage" Jackson. All figurines are completely authentic with officially licensed fight wear and apparel and are of legendary fighter from the UFC, Pride and the WEC.
Round 5 MMA Action Figures
are wildly popular as well. Round 5, a company based in Ontario, Canada, is the manufacturer the first official MMA collectibles in North America. In the first series, such greats were modeled as Randy Couture, Matt Hughes, Tito Ortiz and "Rampage" Jackson. With a crew like that, the company was bound for success and that became even more apparent with the launch of second series with Anderson Silva, Rich Franklin, Sean Sherk, and Wanderlei Silva. Gina Carano, Fedor Emelianenko, Anderson Silva are other fighters have graced the Round 5 figurines as well. "If I had to describe this Series in one word, it would be 'entertaining', Round 5 President Damon Lau was quoted as saying. "We've included some of the most colorful personalities in the sport in this release, as well as some past and present champions."
Dana White, he's a doll...but I wouldn't say that to his face!
Hugely popular, the
Dana White
Round 5 figurine has only 2,000 in circulation. Definately looking in charge as always, this denim and blazer clad depict of White is one tough cookie with arms folded and that look on his face that means business, this MMA collectible figurine is a must have. The
Royce Gracie
figure is another one with only 2,000 in circulation. Both Dana White and Royce Round 5's
MMA action figures can be found at MMA Warehouse
as well as the UFC Store. Just as the collecting of the MMA Action Figurines can get competitive, the selling of them is as well. Often you can find the same item for considerably less if you just check around like when the UFC Store has a sale which they do quite regularly. One avid collector summed it up,
"It's a great time to get into MMA Action Figurine collecting because it's a realitively new hobby and it's booming,"
he explained. Whether you are an experienced collector or just starting out, one thing is for sure...MMA Action Figurine collecting is not just for kids,
it's serious fun
for adults as well.