MATT HUGHES
| | |
| --- | --- |
| UFC Matt Hughes Deluxe Action Figure | Ultimate Matt Hughes DVD |
| 2010 Topps UFC Fight Poster (Trading Card) #TUF10 - The Ultimate Fighter 10 Finale/Matt Hamill/Jon J | Deluxe UFC Figures #4 Matt Hughes |
| Round 5 MMA Matt Hughes Figurine | Deluxe UFC Figures #8 Matt Hughes (Legend) |
| The Matt Hughes Story | Matt Hughes - UFC Cardboard Stand-Up |
Matt Hughes recent win at UFC 98, the nine-time champion of the World Welterweight UFC is even bigger than ever. With a record of 43-7-0, accompanied by his cool country boy Christian image, it's no wonder he is possibly the most popular mixed martial artist ever.
Born

Matthew Allen Hughes was born on October 13, 1973 in Hillsboro, a small farming town in south central Illinois with a population of only 4500. He has a twin brother, Mark, and one sister. Growing up on a farm, the three learned to work hard, especially the boys.

They played hard too, that is, when time away from the farm was allowed which wasn't as often as they would have liked. During their junior year of high school, the twins ran track and found time for an inter school wrestling tournament where Mark beat bother Matt. But that was about all the sports activities there was time for. There was planting to be done in the spring and harvesting after that.
In their senior year, the boys were able to free up more time and both played football and wrestled as well. In football, they both played linebacker and earned All-Conference. But it was wrestling where they really shined. While Mark was state runner up, it was Matt Matt Hughes who excelled ever further with a four year winning streak. His record his was 131-2 in just a three year period.
Both boys went to Southwestern Illinois College (Belleville Area College) for their first year of college where they both wrestled. When the program was cut, however, they went on to wrestle at Lincoln College and both won All-American status. But it was Matt who would pursue his wrestling career to the top.

Matt Hughes accepted a scholarship to Eastern Illinois University and began competing in the Division 1 level. Of course he excelled, earning All-American status his very first year and every year thereafter.

After college, Matt Hughes worked as an electrician apprentice as well as an assistant wrestling coach. During this time a friend of Matt's, Chris Dwyer, coaxed him into a fight where he won $100. It would be a full year before he fought again and upon his victory, paired up with manager Monte Cox. Matt Hughes fought six fights on American soil then took his skills overseas where he fought from coast-to-coast in such countries as Japan, Kuwait, Great Britain, and Abu Dhabi.

Matt's real claim to fame was on November 2, 2001 at UFC 34 in a bout entitled "High Voltage" against Carlos Newton. The Welterweight Championship fight lived up to it's name when Matt Hughes "powerbombed" slammed Newton to the mat. Matt Hughes fell to the mat as well and was said to be unconscious himself from the triangle choke. The fight earned Matt Hughes the title of UFC World Welterweight Champion in his very first appearance.

The two met up again for a rematch in which Matt won again, this time with a crucifix position which trapped Newton allowing Matt Hughes to deliver a technical knockout.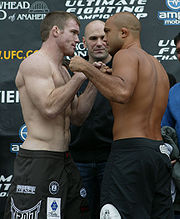 Defending his title, Matt defeated Hayato Sakurai, Gill Castillo, Sean Sherk and Frank Trigg. But in January 2004 at UFC 46, Matt was submitted by B.J. Penn, a Hawaiian Brazilian Jiu-Jitsu specialist. His title was lost but not for long. Penn vacated his title due to a dispute with the UFC over his contract. At UFC 50, Matt regained the title when he beat Canadian Georges St. Pierre.
Matt met up with Trigg again in UFC 52 for a ground-and-pound match. Trigg had accidently hit him in the groin and when Matt looked to the referee, Trigg took advantage of the distraction and ground-and-pounded him until Matt finally broke free. Matt carried Trigg across the Octagon and returned the ground-and-pound winning the fight.
Matt then fought and won against Joe Riggs and Royce Gracie
, a Brazilian Jiu-Jitsu fighter.
Matt successfully defended his title in a rematch against B.J. Penn in Septemeber 2006. The match was supposed to be a rematch against George St. Pierre but St. Pierre was injured so Penn fought instead. After the match St. Pierre congratulated Matt but informed him that he was not impressed with Matt's performance.



In a fight entitled "Bad Intentions", Matt and St. Pierre met up in the ring again. It was November 18, 2006 at UFC 65. In a "superman punch", St Pierre knocked Matt to the ground and began delivering strike after strike until the second round when St. Pierre won by TKO.

Matt went on to win over Chris Lytle in UFC 68 and in UFC 69, St. Pierre was defeated by Matt Serra, making Serra the reigning UFC Champion. A date was set for Matt and Serra to fight but Serra was injured so it was decided that Matt and St. Pierre would fight instead. The match was UFC 79 and it was for the UFC Interim Welterweight Championshi. Though Matt delivered some takedown attempts, St. Pierre remained on top of the game and in the second round, Matt verbally submitted.

At UFC 112: Invincible
in Yas Island, Abu Dhabi, United Arab Emirates on April 10, 2010 Matt went up against Renzo Gracie
from the notorious MMA fighting Gracie family. In round three, Matt won by TKO.





But Matt would not fare so well at UGC 123 where he faced BJ Penn on November 20, 2010. It was the third time the two fought. Penn came out strong from the get go, catching a kick Hughes threw which knocked him off his balance. Penn followed up by dropping him to the ground and finishing it with three shots to the jaw. The fight ended 21 seconds into the first round. It was the first time ever Hughes had been knocked out. Josh Koscheck was next up and it was another KO loss in the first round.

It was at this time that Matt took time off to be with his wife, Audra, their two daughters and two sons (they each had one son when they married). Along with being passionate about his fighting career, Matt is a great husband and son who relishes his family. On his official website, Matt recently wrote: "One thing I always do when I get in the cage is look for my wife." The two were married on July 9, 2004 during the time period between his loosing and regaining the UFC Champion-ship title. It was during this time that he turned to Christianity as well.

Matt is widely known for his spiritual side but such was not always the case. Though he and his siblings attended church with their mother when growing up on the farm, Matt had not gone attended regularly since then. He and Audra began looking for a church home shortly before they married. It turned out that Mark and his wife were doing the same and they met up, by chance, at the same church.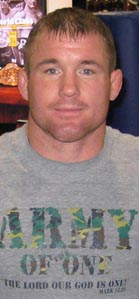 Matt had a spiritual awakening while on a youth mission trip at a Mexican orphanage, surrendered his life to Christ, and thus began his Christian journey.

Back in the saddle again, or in the ring so to speak, Matt fought Thiago Alves on June 7, 2008 at UFC 85. He lost due to a referee stoppage in round 2.

Matt was down, but not for long. On May 23, 2009, Matt Hughes took on Matt Serra at UFC 98. The two had a score to settle and in the ring was a great place to do so. The two had conflicts while coaching alongside each other in the reality television show, "The Ultimate Fighter 6", and they had not been on good terms since. With the tension mounted, the two faced off. Hughes won by way of a unanimous decision.

Ventures outside the ring include authoring a book entitled "Made in America: The Most Dominant Champion in UFC History"
. In the book he discloses his most personal views and thoughts not only about fighting but about life as well. He also has opened a gym in Granite City, Illinois called the "Hit Squad".
Matt also designed a line of gloves for Century. There is a gold and silver edition.

Matt continues on his spiritual journey as well and shares his faith whenever possible. On his official website, www.Matt-hughes.com, he has a posting that sums up his stance where Christianity is concerned. It reads: "The task ahead of you is never as great as the power behind you." Then he shares the Bible verse from Ephesians 6:10, "Be strong in the Lord and in his mighty power."
As far as Matt's family life, his love and adoration for his children and wife continues to be right at the top of his priority list and even more so now with the announcement on May 28, 2009 that they have a new baby on the way.
Matt Hughes is indeed huge and his popularity just keeps growing. It is no wonder though, for he is truly larger than life yet down to earth.
Learn more about Matt in his new book Made in America. His line of gear is only found at Century. Find it here for low prices, shipping directly from Century.
Matt Hughes Line of Gear