BIG AND TALL MMA SHORTS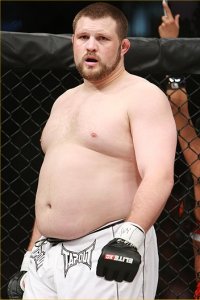 Sprawl Fusion Short, White/Blk/Camo

Hayabusa Competition Shiai Fight Shorts

Venum Amazonia 3.0 Fight Shorts
If you are big and/or tall, then you know the problem; it's hard to find MMA shorts that fit. And if you are so lucky to find a pair that fits, it is often temporary. After one go-around in the dryer there it is...shrinkage!

In general, many MMA shorts are supposed to fit loose. By design, they allow for room to move on the mat and in the ring. There's nothing worse than expecting comfortable, loose shorts and getting a wedgie instead. MMA requires total concentration and it's hard to focus when your shorts are riding up and cutting off your circulation.

If you are a big man wanting a tighter short, you know the feeling of shorts so tight you can't breathe or even worse, can't get them up past your knees.

Big and Tall men need shorts too! Think of Stefan Struve, a.k.a. "Skyscraper". Struve is a Dutch mixed martial artist who competes as a heavyweight and is the tallesst fighter in the UFC, standing 6 ft 11.5 in. You know he can't wear just any short! And what about Jon Hess? Weighing in at 295 lb. and standing 6 foot 7 inches, Hess fought and defeated Andy anderson in UFC 105. He is said to be the biggest man ever in the ring but due to a reputation he got during the bout for "dirty fighting", he has never fought in the UFC again. UFC or no UFC, the man still needs some really big shorts!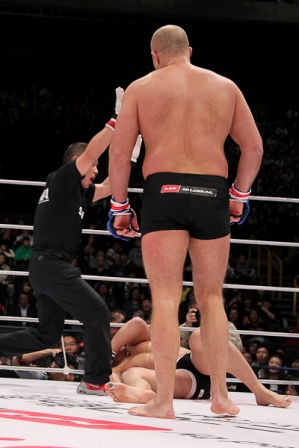 Fedor Emelianenko, has his own signature short, the Clinch Gear "Fedor Elite." You can be sure those are some darn big shorts. Heavyweight Roy Big Country Nelson who defeated "Skyscraper" has been seen wearing a big pair of TapouT shorts. The list goes on and on. Truth is, in the sport of MMA, there are lots of Big and Tall men and they need shorts that fit right, for looks and for function. You don't have to be a pro fighter to need the same. If you are a big man, you need a big short!

We have rounded up a Big and Tall MMA shorts selection where you can choose your favorite fit and favorite brand and not worry about shrinkage and wedgies.

If you don't find what you are looking for there, click on to Century for the Form Big Man shorts and great TapouT selections like these TapouT Burst that go up to size 42.

Revgear has a nice selection of sizes all the way up to 4x. They carry great brands like Bad Boy (seen below) and of course, Revgear.

Finally, there is hope for the big and tall men of the Mixed Martial Arts world, in short-we've got cha covered!