Hello!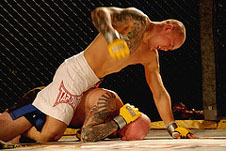 Happy November 1! What a great month for MMA. With UFC 122 on the way, it should be a good one.
We have some great trivia coming in our mid-month issue covering UFC 122 and some gear the guys are using for training.



---
WINNER OF THE OFFICIAL UFC GLOVES
---
Congratulations Travis!
You won on official pair of UFC Gloves. These are the official gloves worn by Cain, Lesnar and the UFC fighters!



---
WIN MORE PRIZES
---
If you didn't win this month, you have a chance to win yet another great prize. This time we will be giving away a a pair of gel wrap UFC gloves.

By staying subscribed to our Ultimate MMA Zine, you are automatically entered for December!

To be entered in the drawing a second time, simply review a MMA product you have purchased. You can do this on the product pages.

Or if you have a product you really like, that we havenít reviewed, just send your review in our contact form and we'll add that product to our pages.

You will automatically be entered! The winner will be announced on December 1.



---

FIGHTER OF THE MONTH
---
This month we are taking a look at Rodrigo Nogueira. Why?

Because I found cool video on him. You can watch a 45 minute video of his training and more right here at Antonio Nogueira.
What else?... a full biography!

Here is a sample...

Noguerira got an early start in MMA, first in boxing beginning at the age of five, then taking up Brazilian Jiu-Jitsu under Ricardo de la Riva at fourteen years of age. At age 23, he earned his black belt in both judo and Brazilian Jiu-Jitsu.... read more



---
DEAL OF THE MONTH: Free Shipping!
---

Ok as promised the deal of the month. This month we have made everything with free shipping. That means UFC gloves, BOB's, Wavemasters, shorts....everything!

I hope you have a great day and always Train On The Edge!

Sensei Kim