Hello!


HAPPY HOLIDAYS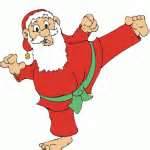 Ultimate-MMA-Equipment would like to wish you an a-MMA-zing holiday season! As you wrap up your Christmas shopping, we would like to show our appreciation to you, our valued customer. Check out our offer below.

Take $5 off any Body Opponent Bag product including Sparring BOB, BOB XL and Bobby Bully. All Wavemaster Products and Heavy Bags are $5 off as well.
Enter the code mmazing at check-out to recieve your discount. One code per qualified item but no limit to amount of items purchased.


Santa's been keeping a list and now he's checking it twice. Find out if your favorite UFC Fighter has been naughty...or nice!
Forrest Griffin may be a beast in the octagon, but what is he doing to feed the hungry? Brendan Schaub fights like a tiger but where does he stand when it comes to homeless kittens? You will be blown away to find out who took MMA fans by a storm when they helped our some of their own who suffered damage from Hurrican Sandy.
You might be surprised what some UFC Fighters have been doing this year. Read more on our home page.



IT'S NOT TOO LATE TO ORDER!!! We ship lightning fast so there's still time to take advantage of our rock bottom prices on great quality MMA Equipment and Gear.

See our Holiday Help page for the Top 10 Most Wanted MMA Gifts and fun stocking stuffers too!
What about these MMA Gingerbreadmen Ornaments! Here's a sweet deal for you. Get a set of three FREE with any purchase. These are a $10 value are perfect for any MMA Enthusiast's Christmas tree.
Enter code gingerbread upon check-out or type the code into "comments". One set per order.

Thanks again for being a valued MMA-zine reader and for your interest in Ultimate-MMA-Equipment.com. We will be offering you some excellent deals this Christmas season so keep an eye out for future editions. Happy Holidays, Sensei Kim and CJ